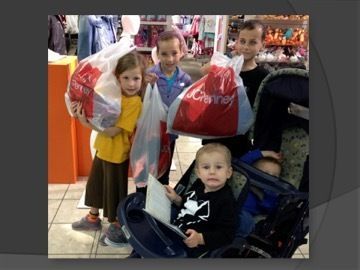 Operation School Bell®
Kindergarten through eighth grade students from ten public and parochial school districts in the greater Omaha community are served through Assistance League® of Omaha's lighthouse philanthropic program Operation School Bell. By partnering with JCPenney, 3500+ children shop for new school appropriate clothing, and may choose a brand new book. Follow-up data indicates that participation in Operation School Bell has a positive effect on student self-confidence, attendance, behavior and peer relations.
Each school is allotted a number of students who may participate in Operation School Bell. The number is based on the school's poverty level and student enrollment. School personnel select their students who are in the greatest need of this support. If parents wish to have their child invited to participate in Operation School Bell, they must contact their school as all recommendations are the responsibility of each school's Operation School Bell contact, generally the school counselor, social worker or nurse.
Three Happy Young Ladies

Helping translate for his Mom

Shopping for shoes.

Mom, Look how much my feet have grown!

Satisfied.

This is my favorite shirt!

I'm not sure what's coming next. I've never been shopping before.

See my new clothes?

Operation Runway